What is Reverse Osmosis (R.O.)?
Reverse Osmosis is a method of purifying water by utilizing one of the most convenient and economical methods of reducing unwanted contaminants in drinking water. It is a filtration process whereby water is forced under heavy pressure, through a semi-permeable membrane, which is rate at 0.0001 micron (equals to 0.00000004 inch!!).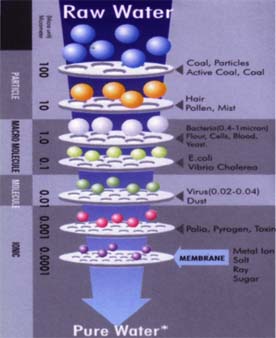 Reverse Osmosis is highly effective in removing several impurities from water; total dissolved solids (TDS), turbidity, asbestos, lead and other heavy metals, radium and many dissolved organics.